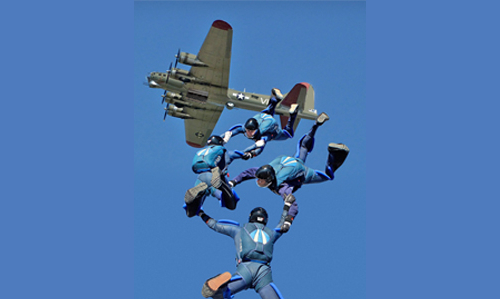 B-17
The B-17 was primarily employed by the USAAF in the daylight strategic bombing campaign of World War II against German industrial, military and civilian targets. The United States Eighth Air Force, based at many airfields in central, eastern and southern England, and the Fifteenth Air Force, based in Italy, complemented the RAF Bomber Command's night-time area bombing in the Combined Bomber Offensive to help secure air superiority over the cities, factories and battlefields of Western Europe in preparation for the invasion of France in 1944. The B-17 also participated to a lesser extent in the Pacific War, early in World War II, where it conducted raids against Japanese shipping and airfields.
From its prewar inception, the USAAC (by June 1941, the USAAF) promoted the aircraft as a strategic weapon; it was a relatively fast, high-flying, long-range bomber with heavy defensive armament at the expense of bomb load. It developed a reputation for toughness based upon stories and photos of badly damaged B-17s safely returning to base. The B-17 dropped more bombs than any other U.S. aircraft in World War II. Of approximately 1.5 million tons of bombs dropped on Nazi Germany and its occupied territories by U.S. aircraft, over 640 000 tons (42.6%) were dropped from B-17s. In addition to its role as a bomber, the B-17 was also employed as a transport, antisubmarine aircraft, drone controller, and search-and-rescue aircraft.
As of October 2019, nine aircraft remain airworthy, though none of them were ever flown in combat. Dozens more are in storage or on static display. The oldest of these is a D-series flown in combat in the Pacific on the first day of the United States' involvement in World War II.
Texas Raiders came to the CAF in 1967 and in the years since has been restored to her original B-17G configuration, and for over 50 years has been on her mission of education, inspiration, and remembrance.  She is on display at the show this weekend, and for a nominal admission fans can take on-board tours in the afternoons and put their hands on history.
It is only with the support of the public that we can continue to bring Texas Raiders to local events like this one. Public flights on the big bomber are available before and after the show. To learn more or to make reservations to fly on Texas Raiders call 855-FLY-A-B17 or go to B17TexasRaiders.org.