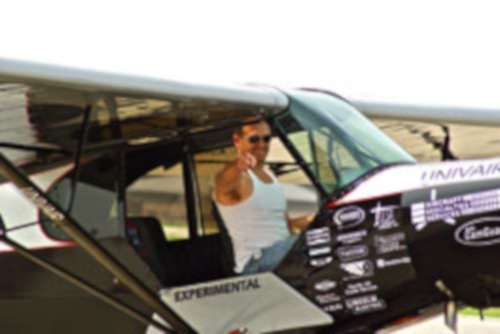 Kyle Franklin, Ben Whabnoski Show
Kyle Franklin is a third-generation pilot and has been performing professionally in Airshows for over 25 years. Son of the late Jimmy Franklin, Kyle was born into the airshow industry. Learning to fly at the age of 8 and performing his first wingwalk at age 14. Kyle started performing professionally as a wingwalker and stuntman at age 17, and became the world's first Jet Wingwalker at 18. A few years later he started flying his Ben Whabnoski Comedy Act in the Piper Super Cub. He learned to fly in an act that is still a fan favorite today. Over his career he has created and performed over 12 different airshow acts in 6 different aircraft including, Pirated Skies, Immortals and Dracula. Kyle continues to reinvent himself to bring something new to the airshow industry and to keep up with ever changing pop culture.
Elizabeth (Liz) Franklin comes from an aviation family as well. She is a licensed tail wheel pilot and instrument pilot. She's also a long time attendee and volunteer at EAA Air Venture, where she and Kyle first met. Liz and Kyle fell in love when she came to visit Kyle's airport for tail wheel instruction. Not long after she became an essential part in the family's flying business. Most notably her part as the pilot that Kyle steals the airplane from in his comedy act. Along with flying, Liz loves training horses and instructing her riding students.