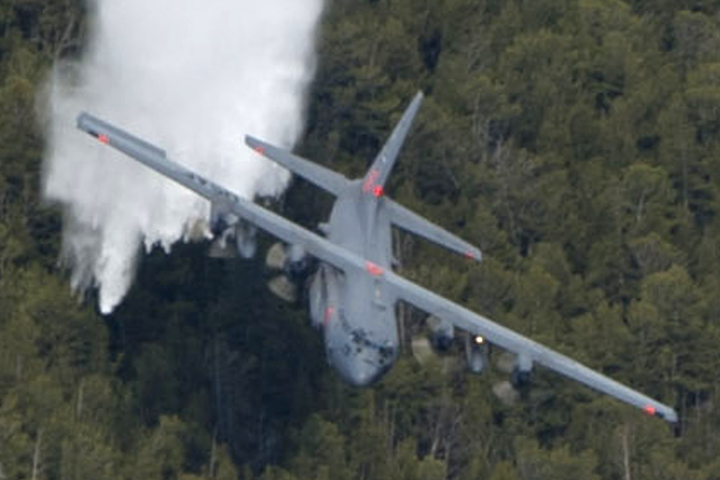 Lockheed C-130 Hercules Modular Airborne Firefighting System
The C-130 Hercules is a four-engine turboprop aircraft designed in the early 1950s as a troop, cargo, and medivac transport aircraft. The C-130 is an exceptionally versatile aircraft and remains a workhorse today, being also used as a gunship (AC-130); for airborne assault, search and rescue; scientific research support; weather reconnaissance; aerial refueling; maritime patrol; and aerial firefighting.
The C-130H3 operated by the 302d Airlift Wing at Peterson Space Force Base, Colorado, is capable of carrying over 90 people, airdropping up to 42,000 pounds of equipment, and landing on dirt runways as short as 3000 feet.
The 302d Airlift Wing is one of four units that employ the C-130 in a firefighting mission. The 302d is part of the USAF Reserves, while the other three Wings are Air National Guard. The Modular Airborne Firefighting System, or MAFFS, is a 3000-gallon tank system that slides into the back of the C-130 and can be installed in a matter of hours, converting the plane into a firefighting air tanker. While aerial firefighting is usually accomplished by a dedicated fleet of civilian tankers, MAFFS serves as a surge capability for the Department of Defense to assist civilian agencies when resources are strained and wildfires are uncontained.